Humble Strategy Sim Bundle for PC / Mac from $1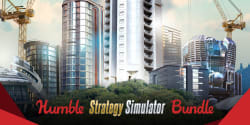 Humble Bundle offers downloads of its Humble Strategy Simulator Bundle for Windows, Mac, and Linux for whatever you want to pay. If you opt to pay the bare minimum of $1, you get Rebuild 3: Gangs of Deadsville, SimplePlanes, and Out of the Park Baseball 18. That's $47 under the lowest price we could find for these games sold separately elsewhere.
If you choose to pay the current average of $5.88 or more, you'll also get Mad Games Tycoon, Plague Inc: Evolved, and Train Simulator 2017 with its Town Scenery and Platform Clutter Scenery DLC packs. Finally, pay $10 or more and you'll get Cities: Skylines Deluxe Edition. Deal ends November 21.
Note: Not all games are compatible with Mac or Linux.
Published at Thu, 09 Nov 2017 16:42:50 +0000